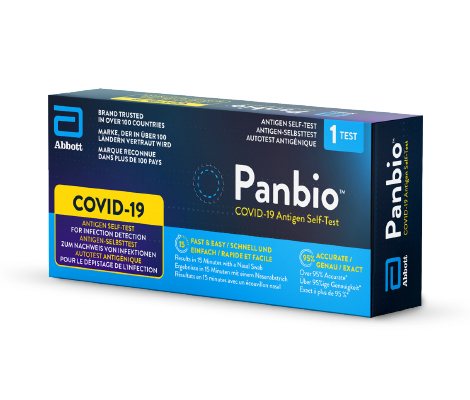 PANBIO™ COVID-19 ANTIGEN SELF-TEST
Fast, simple, reliable and over 95% accurate1, the Panbio™ COVID-19 Antigen Self-Test provides results in 15 minutes at home. Panbio COVID-19 tests are used by healthcare professionals in over 100 countries. 
This over-the-counter test is easy to use, with simple step-by-step instructions using a nasal swab, and can be used for all ages (children under 14 should be supported by an adult). 
With regular testing at home, you and your family can know your status so you can take actions to help stop the spread of COVID-19. Buy the test today at your local retailer or get it through your government program.
Product not available in all countries. Available to consumers in select markets. 
A SIMPLE TEST FOR COVID-19 INFECTION DETECTION
Detects active COVID-19 infection in people with or without symptoms
Get results in 15 minutes
Follow the included illustrated step-by-step instructions
No need to visit a busy healthcare facility where you can risk catching COVID-19
Know your result now; no need to wait for results from your healthcare provider (please follow your local health authority or government guidelines for testing and reporting results)
Over 95% accurate1
Uses a simple nasal swab inserted only 2cm into your nose
Can be used for all ages. Children under 14 years old should be supported by an adult.
Store between 2-30° C until use
Kit Contents: Test Device, Instructions for Use, Buffer Tube, Nasal Swab, Disposal Bag, and Tube Rack (10 test and 20 test kits only)